Cabrils, 8 November 2017.
Jose Miguel, the manufacturer of the trailer, calls me to announce the trailer is ready.
The next day, I leave Cabrils early in the morning to avoid traffic in Barcelona. I reach the city without many problems, even though the traffic is dense. Then it stops. And starts again. And stops again. I am caught… The accordion of cars is playing its tune. A tune played in so many cities around the world in a more or less orderly manner, but never sweet to the ears and certainly not to the lungs.
I think of my friend Maurice who hosted me the first night of this journey. Maurice is the first person I remember using the accordion analogy when referring to traffic jams. I must have been 15 or 16 at the time. He didn't invent that expression, of course, but it got stuck in my mind the first time I heard him use it. Maybe because Julien, his son, is an accordion player?
To Maurice, traffic jams were part of a relaxing routine in which he would listen to classical music while driving back home from work. Music has the power to transform the stress of a traffic jam into a relaxing bliss… How powerful is that?
Motorcycles and scooters whoosh past me from both sides in herds of 5, 10, or even 20, sometimes changing lanes in front or behind me. I need to be careful. I'm thinking about Cristina who moves around on a motorcycle and who has a meeting this morning in downtown Barcelona. Maybe she is one of them? She has some guts to be on a bike in this traffic!
Her meeting is about a graphic novel she is working on with five other cartoonists about the refugee crisis. Every writer is illustrating the journey of a refugee from their hometown to Barcelona. You need some guts to go on exile!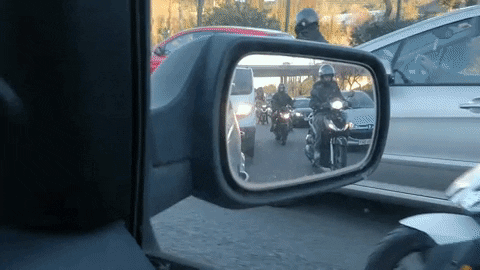 Once Barcelona passed, I listen to Ajde Jano / No Border, a tune about exile and (no) borders, a Turdus Philomelos tune, one of Julien's bands. Yes, music is something !
I arrive in Alforja at around noon after more than 4 hours of driving as I avoided toll roads to reduce the cost of the trip. Alforja is a small medieval village perched in the mountains at about 150 km south-west of Barcelona. The streets are very narrow and some turns require skillful manoeuvring. I have to fold back the outside mirrors to prevent them from being scratched by the walls of the houses. This narrowness must be appreciated for the shadow it procures during the hot summer days. They might also be appreciated by the tipsy fellow of the village who doesn't need to take too many steps on the right or the left to find a wall to lean on, whichever side Newton is pulling him towards. I am in another world, and it amuses me to think that most cars now partially drive on ethanol, given the scratches on their sides.
Jose Miguel did some good work. Though she is on the heavy side (6.5 kg for the Industrías JLL frame and 5 kg for the box), the trailer is solid, fits the bicycle perfectly and looks nice. I test it. Perfect !
I take a walk around the village while the paperwork is being done. Loudspeakers dispersed everywhere in the village announce a communication from the local public administration about a celebration that will take place in a few days. I'm in another world indeed.
I drive back to Cabrils, not even taking the time to have lunch. This time I decide to take the coastal road to reach Barcelona. The weather is nice and the view is beautiful. I decide to pull over and relax a bit. A container ship is sailing on the horizon between the deep blue sea and the light blue sky… How will the crossing to Egypt be like, I wonder ?
I am getting ready to leave Cabrils, while Josephine departs for Nouakchott, the capital of Mauritania, with her mother and her two children, Abel and Giulia. The car is packed with all sorts of supplies that have to last for a year. We take a last picture before Guillem drives them to the airport. In a few days, he will start his own journey with his brother Dani, as they will drive through Spain, Morocco and Western Sahara to also reach Nouakchott.
And as the independence is debated with passion in every household in Catalunya, but also in the international press, a final touch is brought to the trailer with the help of Guillem and Paco: the placement of a safety cable and… a Catalan star sticker !
In the end, I spent nearly 3 weeks in Cabrils instead of the 2 or 3 days I had initially planned in a tight schedule. I will leave for Valence and take with me the memories of an experience I would have never made if Joséphine, Guillhem, Paco, Rosa and their family hadn't welcomed me so open heartedly with great kindness and generosity!
Paco and Rosa even tell me that they might meet up with me once I reach Malawi. That, of course, is a very encouraging thought!